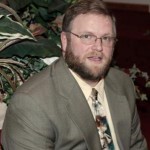 On April 28, 2006 at the Mandan Baptist Church of Mandan, North Dakota I had the awesome privilege to preach this sermon to the Preacher's Fellowship. It was a great day of preaching, singing, worshiping God and praying! Listening to this message brings back some memories of when I pastored the Cornerstone Baptist Church of Beulah, North Dakota. Feel free to share this message with your friends on facebook or twitter!
Let Down Your Nets! (Luke 5:1-11)

Pastor Andrew Schank, Unknown Date
Part of the
Preacher's Fellowship
series, preached at a
Special event
service
This message was preached at the Mandan Baptist Church of Mandan, North Dakota on April 28, 2006 where Jon Wall is the fine pastor.

About Pastor Andrew Schank:
Pastor Schank is currently the pastor of Great Commission Baptist Church of Blair, Nebraska. Their church website is http://www.greatcommissionbaptist.org Andrew is a pastoral church planter with Macedonia World Baptist Missions, Inc. of Braselton, Georgia.
| Earlier: | Same day: | Later: |
| --- | --- | --- |
| | Introduction To The Lighter Side Series, A Man Of Integrity!, Something Worth Going For!, Preaching In A Black Church, Liar, Liar!, Don't Worry!, Champion Fighting Dog!, The Turkey Shoot!, I'm A Hypochondriac!, Fellowship And Uncle Bud!, Foot Washing - Predestination and Christian Fellowship!, A Visit From The Physician!, Look On the Bright Side!, Shake Hands With A Poor Boy!, Man's Seventy Years!, If You Lay Down With The Dogs!, A Place Called Hell! | A Glimpse Of Grace! » |
Luke 5:1-11
1And it came to pass, that, as the people pressed upon him to hear the word of God, he stood by the lake of Gennesaret, 2And saw two ships standing by the lake: but the fishermen were gone out of them, and were washing their nets. 3And he entered into one of the ships, which was Simon's, and prayed him that he would thrust out a little from the land. And he sat down, and taught the people out of the ship. 4Now when he had left speaking, he said unto Simon, Launch out into the deep, and let down your nets for a draught. 5And Simon answering said unto him, Master, we have toiled all the night, and have taken nothing: nevertheless at thy word I will let down the net. 6And when they had this done, they inclosed a great multitude of fishes: and their net brake. 7And they beckoned unto their partners, which were in the other ship, that they should come and help them. And they came, and filled both the ships, so that they began to sink. 8When Simon Peter saw it, he fell down at Jesus' knees, saying, Depart from me; for I am a sinful man, O Lord. 9For he was astonished, and all that were with him, at the draught of the fishes which they had taken: 10And so was also James, and John, the sons of Zebedee, which were partners with Simon. And Jesus said unto Simon, Fear not; from henceforth thou shalt catch men. 11And when they had brought their ships to land, they forsook all, and followed him. (KJV)
Related articles
Complete Word Study Dictionary, New Testament

By Spiros Zodhiates, Th.D. / Amg Publishers

Explore the idioms and nuances of the original text of the New Testament without learning Greek! This detailed study tool arranges every word by Strong's numbering system. Each entry gives the word's derivation; history and etymology; an exegetical commentary; and synonyms and antonyms. Includes an English word index. 1505 pages, hardcover from AMG.
Originally posted 2011-11-24 00:01:48. Republished by Blog Post Promoter