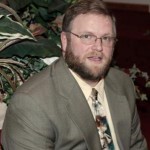 God gave this message to me on one Thursday evening before the preacher's fellowship meeting in September of 2006. I was to be the moderator of the meeting and had not planned on preaching. God showed me that I was to preach and I was sure glad that I listened to Him. God used the message and I have been allowed to preach in in many places. May God use it to encourage every man of God to keep on preaching!
A Preacher Should Preach And Keep On Preaching! (2 Timothy 4:1-4)

Pastor Andrew Schank, September 24, 2006
Part of the
Preacher's Fellowship
series, preached at a
Sunday Evening
service
This message was originally preached at the preacher's fellowship in Carrington, North Dakota in the Fall of 2006. This recording was from when it was preached at Cornerstone Baptist Church of Beulah, North Dakota

About Pastor Andrew Schank:
Pastor Schank is currently the pastor of Great Commission Baptist Church of Blair, Nebraska. Their church website is http://www.greatcommissionbaptist.org Andrew is a pastoral church planter with Macedonia World Baptist Missions, Inc. of Braselton, Georgia.
2 Timothy 4:1-4
1I charge thee therefore before God, and the Lord Jesus Christ, who shall judge the quick and the dead at his appearing and his kingdom; 2Preach the word; be instant in season, out of season; reprove, rebuke, exhort with all longsuffering and doctrine. 3For the time will come when they will not endure sound doctrine; but after their own lusts shall they heap to themselves teachers, having itching ears; 4And they shall turn away their ears from the truth, and shall be turned unto fables. (KJV)
Related articles
John Phillips' Sermon Outline Pack, 2 Volumes 100 Old & 100 New Testament Sermon Outlines

By Kregel Publications

Whether you're preaching from the Old Testament or the New, clear, concise outlines are the cornerstone to well-developed messages. Now you can glean insights from one of today's most popular Bible teachers with this collection of 200 summaries. Whether short and pithy or longer and detailed, they'll all help you deliver powerful, life-changing sermons. 112 pages each, two softcovers from Kregel.
Originally posted 2011-11-30 00:03:53. Republished by Blog Post Promoter