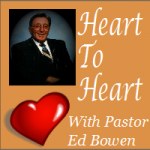 Pastor Ed Bowen was saved on March 24, 1957 at a revival meeting at Horse Branch Church in Turbeville, S.C. at the age of 23. Brother Bowen has been married to his wife, Margaret, for over 54 years. After being ordained in 1960, Pastor Bowen went on to preach in various places until he became pastor of Cherryvale Baptist. Having been there for over 43 years, in 2000, he had to slow down a bit due to prostate cancer.Though unable to do what he used to do, Pastor Ed has just changed venues. For over ten years now, he has been encouraging people via email. He has graciously agreed to be a contributing author to this website. This series of posts entitled, "Heart To Heart" are the fruit of his times with our Lord Jesus! If they mean as much to you as they do me, then EMAIL him and let him know about it!
SUFFERING FOR HIS NAME'S SAKE
"If ye be reproached for the name of Christ, happy are ye; for the Spirit of glory and of God resteth upon you: on their part he is evil spoken of, but on your part he is glorified. But let none of you suffer as a murderer, or as a thief, or as an evildoer, or as a busybody in other men's matters. Yet if any man suffer as a Christian, let him not be ashamed; but let him glorify God on this behalf." (I Peter 4:14-16)
There is a vast difference in suffering the "fiery trial" of testing in the refiner's fire to be made more pure and holy, than suffering because of the foolish actions of the flesh. One is honorable, the other is shameful.
When we suffer in the will of God, it purifies us. It is a testimony to the world around us and to the people of God  who serve with us. It also brings a glorious reward, as we "count it all joy." By contrast, suffering for one's own foolish actions is shameful for a child of God. He brings reproach to His Saviour, whose name he bears and causes the enemies of God to blaspheme. God forbid that we, who are blood-washed and heaven-bound, dishonor our Saviour so.
Related articles
J. Vernon McGee Essential Bible Study Library, CDROM

By J. Vernon McGee / Thomas Nelson

This CD-ROM contains the text of Dr. McGee's entire edited messages, hardback books, notes and outlines, and more—plus a number of valuable reference materials. A great value! See Table of Contentsfor more information.System Requirements
COMPUTER/PROCESSOR: 500MHz Pentium III (1GHz Pentium III recommended); CD-ROM or DVD-ROM drive.
OPERATING SYSTEM: Windows 7/Vista/XP/2000 (including all Windows updates); Microsoft Internet Explorer 6.0 or later (Beta not supported); NOT Macintosh compatible
MEMORY: 512 MB RAM minimum
SCREEN RESOLUTION: 1024 x 768 or higher
Originally posted 2011-12-01 00:30:54. Republished by Blog Post Promoter