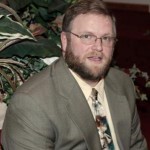 Jesus Christ is the most wonderful picture of GRACE the world has ever known! I am so thankful for the day someone introduced Jesus to me! Since that time, as you, I have needed to get another glimpse of our wonderful Saviour. The following message was preached from the pulpit at Cornerstone Baptist Church of Beulah, North Dakota while I was pastor there on July 24, 2005. I trust it will bless your hearts!
A Glimpse Of Grace! (Titus 2:11-15)

Pastor Andrew Schank, July 24, 2005
Part of the
From Across The Country
series, preached at a
Sunday Morning
service
This message was preached during a regular Sunday Morning meeting of Cornerstone Baptist Church of Beulah, North Dakota

About Pastor Andrew Schank:
Pastor Schank is currently the pastor of Great Commission Baptist Church of Blair, Nebraska. Their church website is http://www.greatcommissionbaptist.org Andrew is a pastoral church planter with Macedonia World Baptist Missions, Inc. of Braselton, Georgia.
Titus 2:11-15
11For the grace of God that bringeth salvation hath appeared to all men, 12Teaching us that, denying ungodliness and worldly lusts, we should live soberly, righteously, and godly, in this present world; 13Looking for that blessed hope, and the glorious appearing of the great God and our Saviour Jesus Christ; 14Who gave himself for us, that he might redeem us from all iniquity, and purify unto himself a peculiar people, zealous of good works. 15These things speak, and exhort, and rebuke with all authority. Let no man despise thee. (KJV)
Related articles
Originally posted 2011-12-21 03:00:02. Republished by Blog Post Promoter