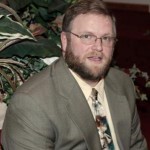 In the course of ministry, we come across people of varying personality types. Some are easier to deal with than others. The same holds true with other pastors, evangelists and missionaries. I have come to the conclusion that some preachers are just not my "cup of tea". I feel that this is okay as long as I do not hold a grudge and sin with my lips and thoughts toward these dear men of God. After all, I am not everyone's "cup of tea" either.
"…iron sharpens iron and sometimes sparks fly!"
The Bible states in Proverbs 27:17Proverbs 27:17
English: King James Version (1611) - KJV
17 Iron sharpeneth iron; so a man sharpeneth the countenance of his friend.

WP-Bible plugin, "Iron sharpeneth iron; so a man sharpeneth the countenance of his friend." (KJV) It has been my experience that iron sharpens iron and sometimes sparks fly! I used to think this was bad, but now I see the error of my judgment. We do not have to agree on everything, but we can learn something from our sometimes heated dialogue.
It is my sincere desire to learn all I can, while I can. One preacher put it this way, "Every man is our teacher!" My grandma used to say that we learn something new every day. All of this taken into account, God means for us to keep sharpening our sword, as it were, so we can be a better tool in His omnipotent hand!
Simply put, every hard working pastor needs to whet the "edge" of his life by the sharpness of God's Word as well as from the scouring surface of other men. The biggest obstacle you will have in this daily endeavor will be to not take things personally. When facing rejection of our words, and deeds we sometimes flare up instead of seeking the hidden truth God has for us. To find diamonds, you have to get through the rough stuff!
**********
Recently, what have you learned from your biggest critic?
Related articles
Willmington's Guide to the Bible

By Harold Willmington / Tyndale House

This easy-to-read Bible reference guide is perfect for those wanting to learn about God's Word. This guide covers the chronological method and theological methods of bible study through numerous detailed illustrations, charts and maps. It is like having eight Bible reference volumes in one: Bible commentary, topical dictionary, archaeological handbook, Old Testament/New Testament cross-reference guide, theological manual, illustrated Bible encyclopedia, prayer fact-finder, and history of Israel textbook. This guide allows you to study the 300 most important Old and New Testament individuals, holy land statistics, historical study of the nine most important Old and New Testament peoples, and twelve major doctrinal themes. A must have resource.
Originally posted 2010-08-27 09:30:00. Republished by Blog Post Promoter